Experienced Baraboo and Lake Delton Lawyers
Englund & Associates Law Office LLC is dedicated to handling criminal defense, family law, and civil litigation matters. The firm's attorneys have extensive experience in these practice areas and a successful record of representing clients from all over Wisconsin. They are committed to tailoring their representation and legal advice in a manner that focuses on the best interests of each of their clients.
The law firm has offices in Baraboo, Lake Delton (Wisconsin Dells), and Adams-Friendship, and the attorneys routinely represent clients in Sauk County, Adams County, Juneau County, Columbia County, and throughout the central Wisconsin region.
An Exceptional Legal Team
Meet Our Attorneys
Acknowledged for Success
What Clients Say
Criminal Defense
Charged with a felony offense carrying time in prison, I called my estate attorney and asked for a criminal defense referral. Without hesitation, he answered, "Jay Englund - I'd put my life in his hands and pay him what he wants." My case ended in dismissal with prejudice. Jay works in a clipped, efficient, and thorough manner. Great staff as well.
Criminal Defense
Jay Englund is the Michael Jordan of Attorneys. I cannot recommend him enough. If you are shopping for an attorney, believe me, you get what you pay for. The intangibles are: How hard is your attorney going to work for you? Jay made me feel like I was his only client. The guy will simply bust his ass for you. In retrospect, I believe the difference between a good lawyer and great lawyer is their work ethic. If you hire Jay Englund you will definitely get your money's worth!
Helping People with a Variety of Legal Issues
Practice Areas
Criminal Defense
If you have been arrested for OWI/DUI, fraud, embezzlement, domestic violence, drug possession, assault and/or battery, homicide or any other criminal offense, contact an attorney at Englund & Associates Law Office before discussing your case with law enforcement, friends, or family. The firm's experienced criminal defense attorneys will be happy to provide you with a brief confidential analysis of your case.
Divorce and Family Law
The attorneys at Englund & Associates handle family law issues, including divorce, property division, child custody, child placement, spousal support, child support, paternity, maintenance, adoption, guardianships, parental rights, and restraining orders.
Civil Litigation
Englund & Associates attorneys offer legal counseling, litigation, and disputes in several areas, including business disputes, real estate litigation, construction disputes, contracts and contractual issues, contempt, restraining orders, and timeshare rescission.
Personal Attention.
Good Judgment.
Aggressive Legal Action.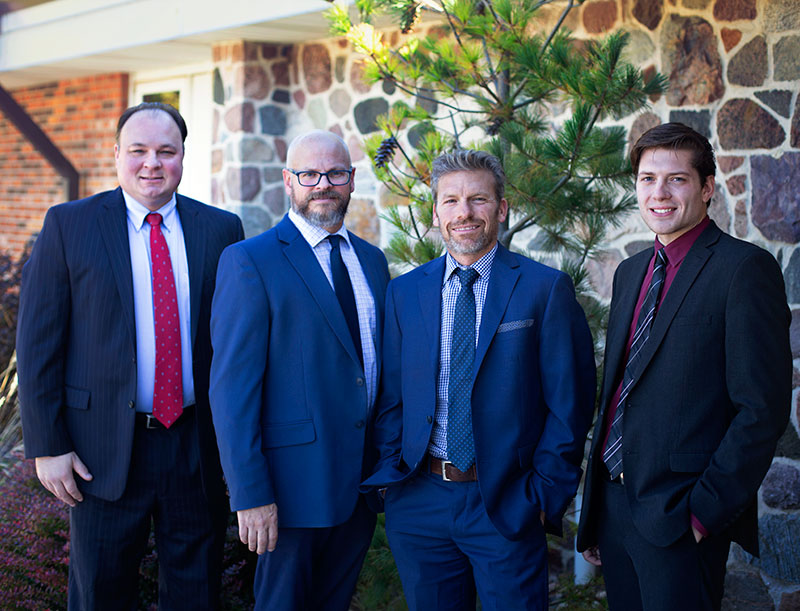 Personal and Professional Attorneys Serving Central Wisconsin
Attorneys Jay Englund, John Newton, James Heyn, and Karl Gebhard devote themselves to providing quality legal representation to clients in central Wisconsin. Over their years of legal practice, Attorneys Englund, Newton, Heyn, and Gebhard have developed a reputation for personal attention, good judgment and aggressive legal action. The attorneys at Englund & Associates Law Office are ready to guide you through all aspects of the judicial process, from the initial consultation through trial, in a cost effective manner.
Assisting Wisconsin Communities
Get Solid Legal Advice.
The best first step towards solving your legal issue is to get solid legal advice from experienced attorneys.